E-commerce Consultations and Services

Through my work at Notchnet, I have decades of E-commerce setup and managment experience. From running my own e-commerce shop to helping hundreds of businesses setup their online shopping experience, I've seen it all in action!
For the past eight years, I've been a certified BigCommerce Partner and recommend BigC to all my clients. BigCommerce customers close 34% more online sales than stores on other platforms, and save up to $100,000 on maintenance and application costs. You don't have time or money to waste right now. BigCommerce offers an affordable and easy program to take your business to the next level online and fast!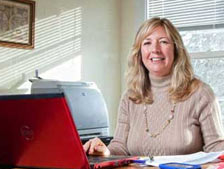 Veronica provides personalized training to business owners looking for easy solutions to sell their products or services online. She offers online coaching to walk you through the e-commerce hurdles to find apps and programs to make your online sales system easy to manage.
Don't get bogged down in the software, keep your focus on your talents and let the software help you, not manage you!
Familiar with other E-commerce platforms? I've tried many, and still recommend BigCommerce.
If you'd like to set up a free demo and 2 week trial shop, just email me at veronica@notchnet.com.