Welcome! Ladies & Gentlemen! Boys & Girls!
To the Veronica Francis One Wild Woman Circus!
Sit Back, Relax and Enjoy My Circus Power Story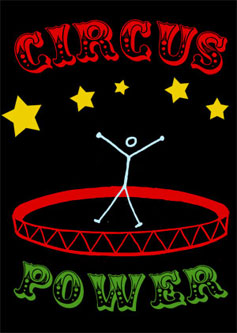 I always had a passion for circus! But I ignored my circus passion for many decades - until I hit midlife! BLAH! I was overdone, stressed out, out of shape and just didn't want to live like that anymore. So I talked to a life design coach and was told to look back at my childhood for a passion to help ignite a spark in me now. I searched my soul, I searched my closets, and what did I find? My circus props! All my circus memories came flooding back to me and instantly started to cheer me up! I realized right then that I needed more Circus in my life. So I set out over the last year to find ways to put more Circus into my life and to make every day a Circus Day!
Now I want to share my Circus Power story with the world and help to bring a little more joy and laughter into your life.
Recently, I shared Circus Power with the local Senior Living Community during the Shutdown to help cheer up the residents......
Life Lessons I Learned At The Circus
Only Juggle What You can Handle Today
We often hear people say "I'm juggling too many responsibilities and can't keep up!" The Lesson I learned was to juggle only what I can handle that day. I learned other lessons by learning to juggle and chasing those balls around has kept me in shape!
Swing High for Your Dreams
The first thing I set out to do when I was looking for more ways to bring circus into my life was attend a circus weekend at the New England Center for the Circus Arts in nearby Vermont. It was a wild weekend of trapeze, hula hooping and swinging with my husband! As I got to experience a childhood dream to fly on the trapeze, I realized it's never too late to achieve your dreams!
Make Everyday A Red Nose Day
Laughing is good for our health, and as a young girl I was taught to laugh at myself and the world laughs with you! Early on I also learned that clowning is serious business and I still have a high respect for clowns. So find some funny props, mismatched clothes or even a red nose and take a moment to laugh each day. In this video I explain the benefits of laughing.
Find Balance
Since ancient circus times, one thing has stayed constant: the amazing balancing acts. I've never had very good balance, so during my year of Circus Power I researched ways to apply more balance in my life. I started balancing small aspects of my life and found it brought my whole life into balance!
Whatever you do - do it with style
I've wanted to be every type of circus performer! Some days, I wanted to be a professional clown, other days I wanted to be the trapeze artist, then I'd go off and spend hours juggling. I never had the discipline or the desire to really give all that it takes to succeed in the circus. But the one skill I learned as a kid, that I practiced for hours every day and carried with me throughout my life is how to "Style".